Welcome to jandrsongs.com - the music website for James and Rebekah Caggegi. Be sure to click on the AUDIO/LYRICS link to access some free downloads from our song library!
Latest News/Thoughts . . . .
4/4/2014 - RADIO INTERVIEW KWVE 107.9.
If you have some time this weekend, you can tune in to KWVE 107.9 FM (Southern California) or stream (www.kwve.com) to hear an interview with us on the Pure Worship program with Scott Cunningham. It airs this Saturday (4/5/14) at 11AM and 11PM, and Sunday (4/6/14) at 5PM. All times are Pacific Standard. We'll be talking about some of the stories behind our songs and we even recorded a song live in the studio!
4/4/2014
- "I have been crucified with Christ; it is no longer I who live, but Christ lives in me; and the life which I now live in the flesh I live by faith in the Son of God, who loved me and gave Himself for me." Galatians 2:20 This is a bold and revolutionary statement from the apostle Paul. He went much further than just declaring, "I am a Christian" or "I am a follower of Christ," though that would have definitely affirmed his commitment to Jesus. Paul, however, recognized that his whole identity as a human being was now completely wrapped up in the person of Jesus Christ: in His death and resurrection. Christ was now his LIFE, and this new life demanded DEATH to his old way of living. In reality, Paul's statement is describing the true position of every believer. A Christian is someone who has identified himself with the death and resurrection of Jesus. But even as Christians we can lose perspective. For me, reading this passage of Scripture is always very searching. It causes me to evaluate if I've allowed anything else in my life, other than this truth, to define who I am. Our society would have us find our identity in an education, a job, a relationship, possessions, etc. We're confronted with this philosophy every day through advertising campaigns and other media. But Jesus said, "A man's life does not consist in the abundance of the things he possesses." To define our selves with the shallowness of temporary things is a tragic substitute. As believers, our lives are rooted in something eternally deeper—in Christ Himself. As we approach the Easter season and consider Paul's words in Galatians 2:20, may we also remember that our ability to identify with the Lord Jesus is grounded in the fact that He first chose to identify with us. "He made Him who knew no sin to be sin for us, that we might become the righteousness of God in Him" (2 Corinthians 5:21).
James
NEW CD . . . 'A Brighter Day' now available on iTunes.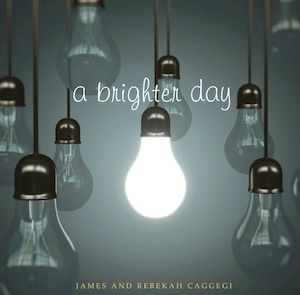 11/9/2013 - Our new CD 'A Brighter Day' is now available on iTunes! We're excited about this new worship project and hope it's a blessing and encouragement to you. Most of these songs were written over the last couple of years. God has been teaching us a lot about discipleship; reminding us that the grace He's given us through Christ, though free, did not come cheap. It cost the life of His Son, and should compel us to lay down our lives in devotion to Him. This same grace enables us to "walk worthy of the Lord, fully pleasing Him" (Colossians 1:10). Dealing with suffering and disappointment is another theme we touch on, as well as heaven, unity in the church, and God's sufficiency. We were honored to have some good friends and talented musicians help out on this project including John Schreiner, Brian Steckler, Scott Cunningham, Melissa Hasin and Frank Lenz. These are the song titles: Your Will The Way Nothing Can Separate Me Be Still My Soul Lord of Everything Love One Another O Thou in Whose Presence BELOW IS THE MUSIC VIDEO FOR 'LORD OF EVERYTHING'!!!